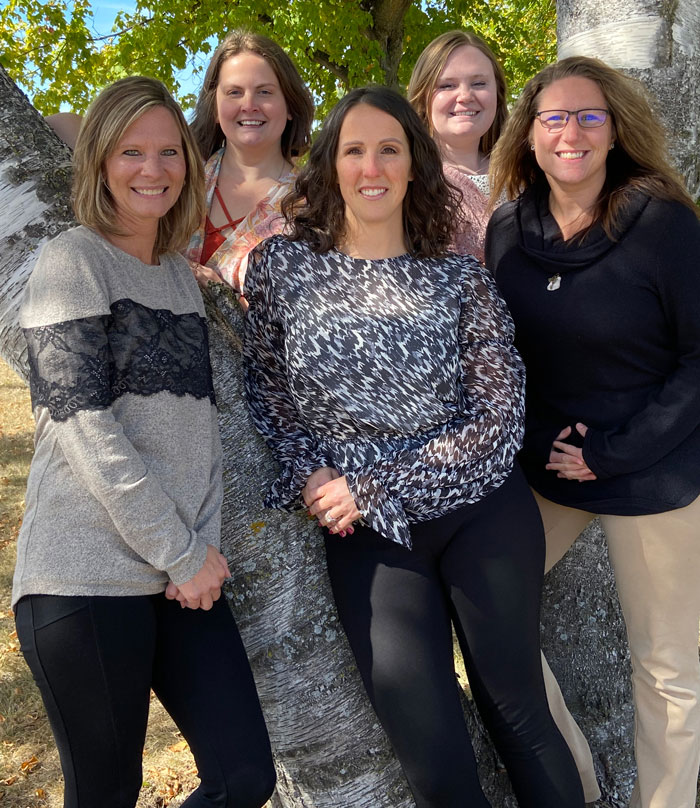 Our Professional Staff
Jacqui Theisen, M.S., NCC, LPCC
Email: admin@serenitymentalhealthservices.com
Jacqui received her Bachelors degree in Corrections from Minnesota State University, Mankato, and her Masters degree in mental health counseling from Walden University. Jacqui has experience working with individuals, groups, and families using a cognitive behavioral therapy approach. Jacqui has a background working in-home with clients, teaching coping skills to manage symptoms caused by diagnoses. Jacqui is a certified CBT Therapist and prefers to use a cognitive-behavioral approach with clients, focused on reframing their current thinking in order to cope with their diagnoses and learn proper coping skills. Negative thoughts will be challenged in sessions and a more positive way of living will be taught while examining the relationship between thoughts, feelings, and behaviors.
Jacqui is a MNBBHT (Minnesota Board of Behavioral Health and Therapy-approved supervisor, which allows her to provide supervision of licensed-bound mental health professionals. Jacqui enjoys providing supervision to her supervisees either on the individual or group levels. She has experience working with supervisees who are on track to obtain their LPCC (Licensed Professional Clinical Counselor) status.
Jacqui is currently not accepting new clients.
*Check with your board to determine if Jacqui's licensures (NCC, LPCC) are adequate for your board supervision requirements.


Location: Hutchinson, MN & Buffalo, MN
Deanna Boettcher, M.S., LPCC
Email: deanna.boettcher@serenitymentalhealthservices.com
Deanna received her Bachelor's Degree in Psychology from Ashford University and her Masters Degree in Mental Health Clinical Counseling from Walden University. She utilizes an eclectic, strengths-based approach to therapy pulling on techniques from expressive arts, the cognitive-behavioral therapies, and Dialectical Behavior Therapies to assist clients from all backgrounds to see their full potential and learn appropriate coping skills to overcome the obstacles they are experiencing in their lives. She has her certification in Art Therapy and DBT Strategies.

Deanna works with individuals ages 6 and up on the individual level, as well as couples and families.

Location: Hutchinson, MN
Johanna Schultz, M.A.
Email: johanna.schultz@serenitymentalhealthservices.com
Johanna received her Bachelors Degree in Environmental Studies from St. Cloud State University and her Masters Degree in Educational Psychology, with a community mental health focus, from the University of Minnesota. She has experience and enjoys working with individuals across the lifespan. Johanna believes in the inherent value, purpose, and dignity of each person and that through therapy, individuals can develop or re-establish this believe about themselves. She is here to actively and non-judgmentally listen to your story and work collaboratively to build upon internal strengths and reaching your goals. Her desire is to create a space that is safe and supportive where you feel comfortable expressing yourself, your concerns, and aspirations. Johanna integrates a humanistic perspective with Acceptance and Commitment Therapy skills into her approach and will incorporate nature, movement, mindfulness, and spiritually into therapy with your desire and consent.

Johanna works with individuals ages 13 and up, as well as couples.

Location: Buffalo, MN
Robin Curwick, M.A., LMFT
Email: robin.curwick@serenitymentalhealthservices.com
Robin Curwick, M.A., LMFT has a solution focused, family systems approach to working with others in their relationships. She passionately supports incorporating all necessary family members during sessions when possible (active participants in services can be ages 3 and up). Robin graduated with her Bachelor's degree in Psychology from Southwest Minnesota State University and continued her education at Agrosy University completing her Master's degree in Marriage and Family Therapy. Robin is a "prepare and enrich" certified counselor, which allows her to perform premarital counseling. This certification allows couples who receive premarital counseling through Robin to receive the discounted rate on their marriage license.
Robin has a background working with a variety of ages, cultures, and diagnoses including early childhood, developmental delays and those on the Autism Spectrum. She is a DC 0-5 certified therapist. She will work with children ages 0-5 as long as they have a current assessment completed prior to starting services with her.  She strives for transparency along with healthy boundaries and some humor in her connections with others towards their personal and relational growth. She has lived in rural and metro settings while working with out-patient clinics and in-home services. She currently resides in the Hutchinson area with her family and pets. She is a nature and animal lover, who enjoys being outside and is looking forward to meeting and learning more about your individual and family's story. Relationships and life cycles are challenging yet part of life's journey.

Robin works primarily with couples and families, but will also work with individuals ages 6 and up, or 0-5 with a current assessment.

Location: Hutchinson, MN
Casey Burns
Email: casey.burns@serenitymentalhealthservices.com
Casey received his Bachelor's Degree in Psychology from the University of Florida in Gainesville. He worked for five years in various healthcare roles within Mayo Clinic, including outpatient treatment for mood disorders, nuclear medicine research, and transplant coordination. He will receive his Master's degree from Saint Mary's University in October 2022. Casey is passionate about using Christian-based, behavioral, and solution-focused modalities within the therapy setting. He especially enjoys helping clients resolve struggles related to obsessive-compulsive and borderline personality disorders, among others. Casey's most recent hobbies include running, target shooting, listening to classical music, hiking, and growing orchids. He also loves staying connected with his family and friends in Florida.

Casey works with individuals ages 5 and up on the individual level, as well as couples and families.

Location: Buffalo, MN
Brianna Harguth
Email: brianna.harguth@serenitymentalhealthservices.com
Brianna received her Bachelor's Degree in Psychology and Spanish from the University of South Dakota. She received her Master's Degree in Marriage and Family Therapy from St. Cloud State University in 2022. She utilizes the family systems approach, meaning she believes individuals do not exist in a vacuum; they are influenced by their relationships with others. She works with individuals, couples, and families. She prefers to take a straight-forward approach with her clients. Brianna incorporates components of symbolic-experiential theory, narrative therapy, structural family therapy, cognitive- behavioral theory, and mindfulness into her approach to therapy.

Brianna works with individuals ages 10 and up, as well as 6-9 for family therapy, with a parent present.

Location: Hutchinson, MN
Laura Laxen
Email: laura.laxen@serenitymentalhealthservices.com
Laura received her Bachelors of Science Degree in Social Work at Minnesota State, Mankato. Laura received her Bachelors of Science Degree in Social Work at Minnesota State, Mankato, and her Master of Arts Degree in Counseling from Adler Graduate School. Laura is passionate about utilizing a trauma-informed care approach and a strengths-based approach within the therapeutic setting. Laura believes that each person is unique to their experiences and strives for connection with others. Laura integrates a holistic approach by using Adlerian therapy techniques. She strives to create a safe, trusting, and non-judgmental environment that provides support, encouragement, and empowerment.

Laura works with individuals ages 9 and up.

Location: Hutchinson, MN 
Kelly has a decade of experience working in Mental Health and Social Services in a variety of settings. She received her Bachelor of Social Work from St. Cloud State University and her Master of Social Work with specification in Multicultural Clinical Social Work from Augsburg University. She enjoys working with adolescents and adults of all backgrounds, though she specializes in the treatment of developmental and generational trauma with a focus on Neuropsychology. A Certified Clinical Trauma Professional, Kelly incorporates knowledge and techniques from a variety of approaches such as psychodynamic, internal family systems, polyvagal, trauma focused cognitive behavioral and experiential. A self-proclaimed "outside the box" therapist, Kelly believes that the most effective therapy is one that is shaped and constructed to fit the person in the room and their unique perspectives and experiences in life. Kelly believes in creating a safe, comfortable environment that allows her clients to be whatever version of themselves they need to be in order to heal.

Kelly works with individuals ages 12 and up.

Location: Buffalo, MN
Stephanie received her master's degree in clinical mental health counseling from Capella University. Stephanie believes that everyone has the power within themselves to experience well-being. She believes a strong therapeutic relationship consists of empathy, congruence, and an unconditional positive regard, and is central to helping people on their journey toward well-being. Understanding ourselves, our history, our feelings, and how these fit into the world around us is a lifelong adventure. This excursion leads to deeper insight about ourselves and our place in this world and is an important component of well-being. Stephanie utilizes many different approaches during sessions, but most often utilized is cognitive behavioral therapy (CBT) to help people understand how our thoughts and behaviors influence how we feel, and equip people with a tool belt of coping skills to help manage their thoughts and feelings effectively. "Life is hard to navigate alone. Seeing a therapist makes navigating life a little less hard and a little less lonely."

Stephanie works with individuals ages 13-60 and up on the individual level, as well as couples and families.
Location: Buffalo, MN
Contact Us Today - We're Here to Help!